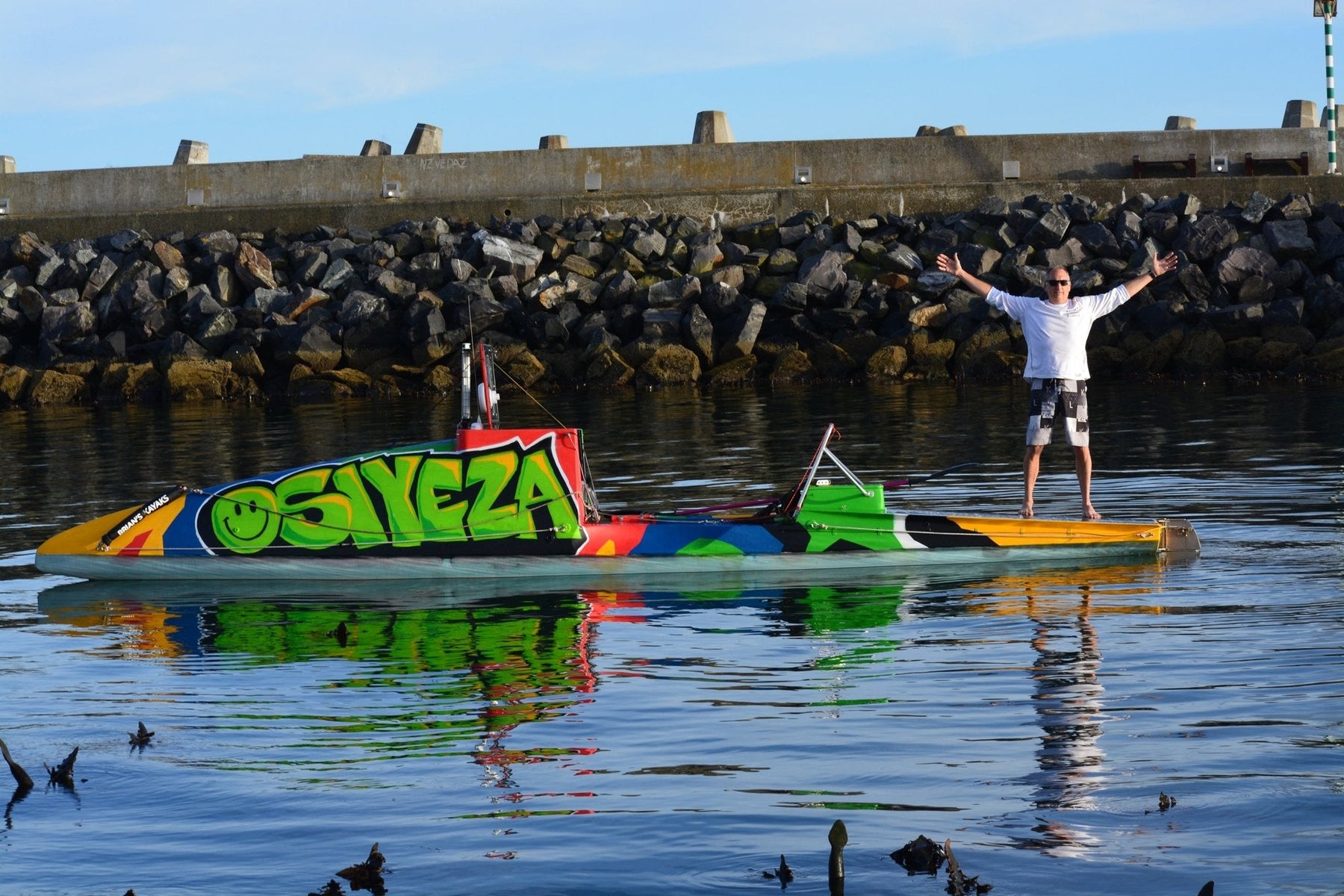 OCEAN X: RICHARD TACKLES THE SOUTHERN ATLANTIC OCEAN
Professional yachtsman and adventure-enthusiast, Richard, is at it again - but this time, he is going even bigger and bolder.
Richard has achieved remarkable milestones over the years including:
being the first person to paddle solo around the entire coastline of South Africa - 3300km in 70 days 
being the first person to SUP the length of the Breede River unsupported - 330km
only person to paddle from the source to sea, non stop, down the Breede River - (38hrs without sleep)
sailing for South Africa's 2007 America's Cup campaign - the pinnacle of yacht racing 
he is also a SA champion and has received multiple provincial colours for canoeing in his age class
and he has sailed the equivalent of three times around the world and has 11 ocean crossings under his belt
His most recent challenge is called Ocean X, an adventure of a lifetime that will see him paddling across the Southern Atlantic Ocean, from Cape Town to Salvador, a city in Brazil, alone and unsupported. 
Ocean X 
Many people have asked Richard why he is doing this and his answer is simple - to raise funds for Operation Smile SA. A non-profit organisation dedicated to providing life changing surgeries to children born with a cleft lips or palates. Richard and Operation Smiles would appreciate any support possible. Donate here. With this adventure and the funds raised from it, Richard will be able to change the lives of hundreds of children.
While it would have been very possible to have a support team, Richard felt that it was never the way he intended to achieve this dream of his. Challenging and pushing himself, he wanted to design a kayak that would be able to house him and all the things he needs to survive this journey. The Osiyeza, which will be his home for the upcoming months, was named after the Jonny Clegg and Savuka song "The Crossing"
O siyeza, o siyeza
Sizofika webaba noma
O siyeza, o siyeza
Siyagudle lomhlaba
Siyawela lapheshaya
Lulezontaba ezimnyama
Lapha sobheka phansi
Konke ukhulupheka
We are very proud to be a sponsor of Ocean X and support Richard and his incredible journey and cause. 


Needing to strictly follow a low-carb, high-fat diet, Richard will be taking meals such as our Butter Chicken, Lamb Tagine, Chilli Con Carne, and more. He will also be enjoying the luxury and ease of our freeze dried eggs on board. For a taste of home while out at sea, we have also freeze dried some of his favourite food and snacks. 
To get involved or sponsor Richard, you can contact the Treble Group:
Email: kyle@treblegroup.com
Tel: 021 685 3333
You can also follow his journey through his instagram page - @richardkohleradventures