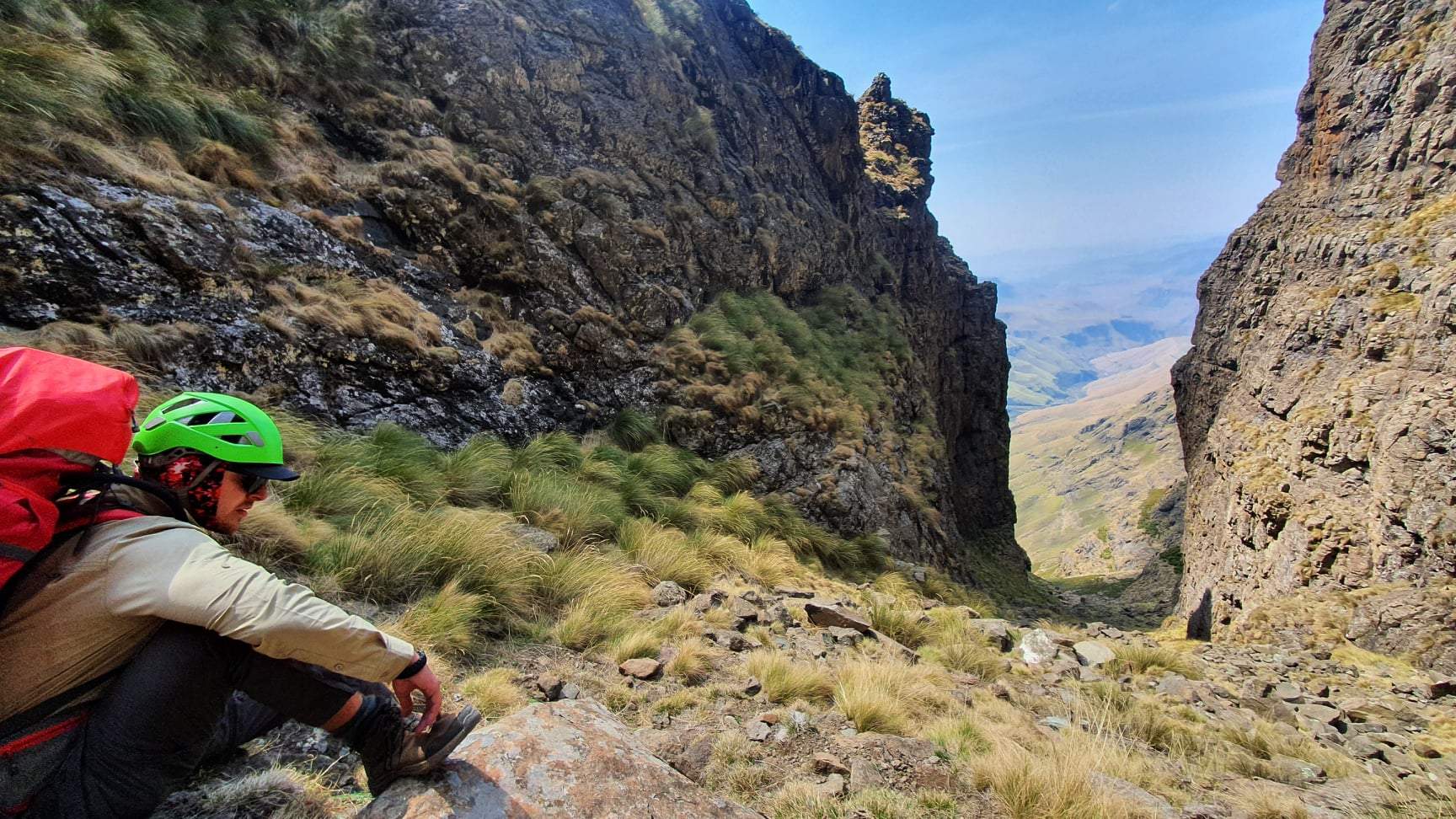 Mafadi Peak: Adventure of a Lifetime!
By Wade Basson 
On 25 September, Craig Burns and I set out to climb Mafadi Peak (3450 masl) in the Drakensberg as training for our Kilimanjaro Summit at the end of the year. After all, how could I stand at the Roof of Africa and have never climbed my own grand behemoth in South Africa?
It was probably one of the toughest, soon to be second toughest, physical experiences I have ever done, as we planned our route from Injasuthi Campsite, past Marble Baths, towards Leslie's Pass, but instead of Leslie's we went up Injasuthi Pass, one of the hardest footpath passes in the country.
After reaching the top of Injasuthi, we powered for another 4 hours across the rolling escarpment along the Lesotho border to the top of Mafadi Peak in the dark.
Our descent went down Corner Pass, past Centenary Hut, and down Heartbreak Hill, linking up back with the Injasuthi River to take us back to the campsite where we left our car. 3 days of adversity and the greatest intensity of hiking I have ever felt, and I couldn't be happier. The Kilimanjaro training is coming along really well, and I cannot wait to soon make this the second hardest experience of my life.
If you haven't yet, do yourself a massive favour and get yourself out to the Drakensberg asap. Even for the non-mountaineer, it is one of the most stunning parts of our beautiful country, and you have to experience it to understand why.
Day 1: 
Arriving in the Little Berg, starting to doubt our decisions to climb these monsters in 3 days.
Excitedly observing Injasuti Buttress as it towers over our approach
Much needed rest under the trees. It was 37ºC in the middle of the day
Taking a swim and having some lunch at the Marble Baths. A much-needed moment of relaxation. Talk about the Wim Hof method though!
Final resting place for the day, beneath the towers of Injasuthi Buttress, on a clean stone slab, with beautiful running water nearby. Truly a blessing before the unforeseen Day 2 to come
Having some of Forever Fresh's amazing beef lasagne before bed. Couldn't be happier with their products. Definitely taking these guys up Kilimanjaro
Day 2: Our route up Injasuthi Pass, from 2100masl to 3100masl, followed by another 350m to Mafadi Peak (3450masl) all in one day
Some necessary breakfast before embarking on the big day
Having just entered the actual gully of Injasuthi Pass and already regretting my decision
. So far the day had been nothing but bundu bashing and scrambling over plants and brittle rocks (helmets came in handy a few times)
A light rest (one of MANY) quite high up the pass already - hence the helmets for rockfall and "hiker-fall"
Observing the last stretch of pass near the top. It was almost time for the climbing gear to be brought out
Let the climb begin. In truth it was actually pretty straight forward, although I did have a bit of a scare near the top. The runout was insane as there were no real placement opportunities in the rock, but we made do and took it incredibly slow and cautious
Top down pitch view, with 3 placements made near the top. Roughly a 10m Grade 12-13. Really easy climbing, but pretty sketch when you're at the top of a mountain. Felt far more real than anything I have done before
Belay position with an Italian Hitch to bring Craig up the pitch towards me
Had to go back down to fetch my bag, but Craig had me nice and safe
After about 9 hours of hiking and climbing, we eventually reached the top of Injasuthi Pass, with a glorious peaceful view of the Drakensberg escarpment up top. At about 3100masl, this is where the real challenge began. Worn out and exhausted, we still had another 4 hours of hiking to reach the peak at 3450masl and still make it down to the cave where we would spend our night
A feeling of momentary success as we surmounted the pass. Still with another 4 hours ahead of us, we couldn't spend too much time admiring our achievement. We had a summit to reach!
Craig being a solid photographer for some happy shots on top. That was the last time I smiled until I reached the summit!
The last 4 hour push to the summit. The Sun set around 6pm, and we spent about 2 hours hiking in the dark, with GPX guidance to aid our approach
VICTORY!!! MAFADI PEAK (3450masl), The Roof of South Africa! Tallest peak in the country, reached with great adversity, but great pride! So happy to stand at the top of the country. A momentary exclusivity that can only be felt, not explained. Obligatory summit photo. Too dark for normal photography so we had to take a 10min long exposure and sit really still. Our excitement didn't allow our heads to stop shaking, so excuse the minor blur
Day 3: The morning view from the Injasuthi Summit Cave, where we slept for the night
The Western Triplet standing mighty fine on our eye-line, a sight to behold before beginning the final day descent
Vultures scattered the cliffsides in such abundance. I have never seen these beautiful birds in such numbers before... nor have I ever seen cliffs covered in that much poop!
A fun repelling section down Corner Pass. No gear necessary, just a simple arm wrap friction repel
Admiring the rolling hillsides as we got to the bottom of Corner Pass. Our knees certainly thanked us
Taking a look back at the behemoths we just conquered before trekking our final distance down the mountain back to the car
Stopping for a much-needed and well-deserved lunch. I strongly believe sense-of-humour is indirectly proportional to altitude. I hadn't felt this great in almost 24 hours
The most stunning valley to walk out of the Little Berg in, with thunder raging high up above, and water rushing alongside us, it was a calming and refreshing way to end the trip