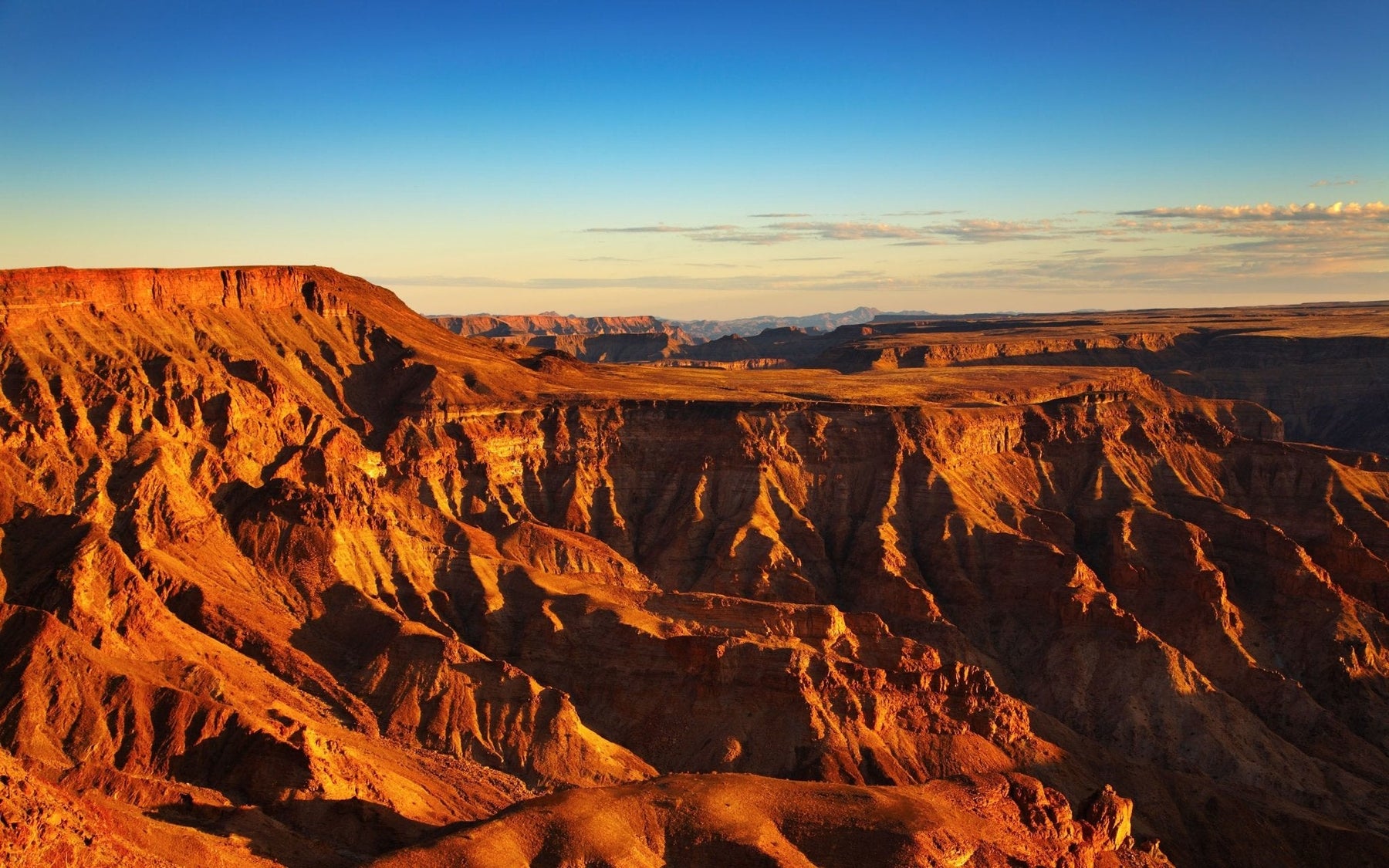 A Guide to the Fish River Canyon
By: Janine Steytler
"The desert is the natural extension of the inner silence of the body" – Jean Baudrillard
Photo by Ralph Pina (www.raplhpina.co.za)
The first time I explained to someone that I would be backpacking through the Fish River Canyon, their initial reaction to my new thrilling goal, was fascination and intrigue. After sharing a little more information and specifics of the backpacking journey, the response changed to "crazy and strange," with responses like "that sounds absolutely horrible!".
To be fair, I probably should have read my audience better, considering the specific string of words I used to describe the setting and conditions of this pilgrimage into the canyon obviously was not as inviting as they would have been to those crazy souls who also find journeys like this thrilling and exciting.  For those, like myself, who place so much value in walking to the edge of oneself (just enough to begin to walk as one with your surroundings).
"Dry, desolate, absent of trees, scorching, no shelter, sandy, void of any civilisation or society - except an occasional smudge of light in the night sky which hardly leaves a reminder of a satellite and the fast-disappearing tracks of those who have walked here before you". Probably not the best way to describe a journey which excites me so much to someone who has only really walked up Lions Head after a rough night of partying, for a good sunset selfie for Instagram after continuous short-winded and breathless questions along the lines of "are we close to the top yet?". But these descriptive details were exactly what charmed me so much. I wanted to experience this. I wanted to watch how the colours of the ancient rocks changed the longer I walked amongst them. I wanted to befriend the few and far between scorpions and snakes after pushing myself through a canyon so old, so vast, its exact age is only guesstimated by scientists.
My intention of backpacking through this vast prehistoric valley is actualizing. This year – 2021:  I will be walking, or sauntering, as John Muir preferred to say, through the Fish River Canyon.
Photo by Nicola Rowe, for Hiking South Africa (https://www.hikingsouthafrica.co.za/fish-river-canyon-hiking-trail/)
Painting a picture
The canyon is situated between the Namib and Kalahari deserts in southern Africa and is one of the largest canyons in the world. The geological formation of the canyon is believed to have commenced over 350 million years ago due to the collapse of the valley floor- a result of tectonic plate movements, and further deepened by glacial activity (hard to imagine that the canyon in the Namib desert was once covered in ice) which led to the natural watercourse of the Fish River, which now runs 800km long through Namibia, down to the border of South Africa. The canyon is 161km long, 27km wide and the deepest point of the canyon measures 549m. The landscape truly encompasses a vast diversity of terrain, topographic features and habitats. The geology in the valley here is highly visible and accessible and gives us a window into the past as far back as 2000 years ago revealing some of the oldest rock known. Doleritic magma intrusions which formed dark dykes can be seen in the canyon walls (thanks to the erosion of the valley) that were formed approximately 770 million years ago. A stratigraphic combination of gneiss; amphibolite; schist and granulite of the Namaqua Complex; followed by another deposition of a shallow sea in which sandstone, shale and limestone of the Nama group were laid down. Because no major event took place after this deposition, the rocks today can be seen almost entirely horizontal and have preserved their original sedimentary structures. The stark contrast in colours and metamorphic rocks are a sight to behold.
The topography alternates between boulders, rocky and sandy plains, rocky hillsides, plateaus, drainage lines, incised valleys and the actual trek is mostly over rocky and sandy plains with occasional boulder hopping. The Fish River is also crossed multiple times, so to know which season the water levels are high is valuable information for the backpacking trip.
The hiking season for the Fish River Canyon is in winter, May to September, after the rainy season. The summer months are excluded due to extreme heat and a maximum of 30 hikers per day may descend into the canyon during the hiking season and all must be cleared with health checks by a GP in order to prevent negligence on behalf of health and capability for this trek. The biggest risk of descending into the canyon is that hikers who attempt to embark on this journey are not experienced or conditioned enough and are not familiar with overnight hikes. This makes it difficult for them to discern whether they are physically prepared for this challenge and capable of trekking for 4-6 days carrying all they need on their back for 70-80km in extreme weather. Considering that there is only one escape route out of the canyon, a situation could get serious quickly if you are not well prepared or know your physical limits or if there is a medical emergency. The entire hike covers approximately 85km and can be either completed in a disciplined 4 days, or a meandering 6 days. This depends on the group you are going with and usually comes down to an educated decision as well as a democratic vote.
Preparation
To immerse myself fully in this experience I am preparing myself physically and getting geared up properly, because I know this will not be my last long through-hike.
One of the most important parts of a hike for me, is to be prepared. Mentally as well as physically.
Hiking the Fish River Canyon can either be a magical, self-exploratory experience, or a torturous and bland one, depending on your view and what your reasons are for embarking on this journey.
I do believe in igniting curiosity and encouraging people to step outside of their comfort zones and into natural environments that cultivate respect for nature and all her facets. I also believe in being informed and responsible with our limits and putting in effort to be able to cross boundaries that we often tend to box ourselves into. To prepare diligently for a trek such as this is of utmost importance and makes the experience so much more fun. To be fit enough to tolerate carrying a backpack that weighs 20% of your bodyweight over many kilometres will allow space to absorb the pristine beauty and enjoy the comradery. There is no signal in the canyon and it is advised to carry a satellite phone with you in case of emergencies. Every hiking group must always allow flexibility for changes in pace and to deal with obstacles, but ultimately, to reduce chances of injuries and medical difficulties, hikers should prepare themselves as best they can and take responsibility for themselves. It helps to be well informed on the terrain and what to expect regarding weather, water availability and the dynamics of the group you are hiking with.
Here is a list of hikes that are a good starting point to prepare for the Fish River Canyon backpacking experience, that will help with becoming accustomed to carrying a backpack and walking far distances in your shoes. Some hikes are shorter to build strength, and others are to train in similar terrain with longer distances to build stamina.
Our hiking group for this year is split into 3 groups depending on where everyone is coming from: Western Cape (WC); Gauteng (GP) and Mpumalanga (MP). The suggestions for the following hikes are in no way complete, and were a personal collection I compiled for friends, purely from the love I have for encouraging people to get outside and to encourage training and preparation for our trek in August.
I encourage anyone who is preparing for any hike to do some research and find beautiful places in their area to go frolic in. It is always a good idea to be familiar with the natural areas surrounding you and you often find inspiration for other ventures once you become familiar with small details in the beauty of nature. We are so lucky to have so many beautiful spaces to explore in South Africa. An honest and humble way to show our gratitude is to enter these spaces with thanks and respect and we will always be rewarded, even if it is just a good breath of fresh air.
Photo by Nicola Rowe, from Hiking South Africa (https://www.hikingsouthafrica.co.za/fish-river-canyon-hiking-trail/)
Packing
What every hiker decides to take with them on a journey such as this, depends on each person and their own preferences. There are, however, certain items and equipment that are considered essential for long hikes and make a lengthier hike easier and more enjoyable. For the Fish River Canyon, there are a few lists that have been compiled by other hikers and blogs, and there are countless generic lists for backpacking that can be found on the internet. These lists are also mainly aimed at those who hike regularly or who are getting into hiking and looking at cultivating this as a long-term hobby. Something I have learned is that we do not always have to buy the newest and most technical gear. The experience and exploration are the most valuable and often, I go by the rule "beg, borrow, rent, steal, trade" and I have thrived by this. It also helps to share certain gear items on a long hike to reduce weight for every hiker, and there are some things that are better shared and encourage comradery. For instance, a team can break into smaller sub-teams and share lighters, pots, Amarula etc. This also ensures that nothing goes unused coming out of the canyon.
It is recommended that each hiker carries no more than 20% of their body weight on a backpacking trip. Usually those who have smaller/more petit bodies should opt for bags that are sized between 50-65 litres, and for hikers who have taller or grander builds: 65-75 litres. The type of backpack chosen to carry all your gear will also make a substantial difference with regards to mobility, pressure points on your hips and shoulders and how adjustable it is to fit your unique body.
Below, a list of essentials:
A reliable backpack
Strong, reliable footwear (that you have walked at least a consistent 10km in before)
Water bottles or hydration bladder (at least 1.5l capacity)
Sleeping bag (and liner if your sleeping bag is not insulated enough)
Mattress/sleeping pad (preferably provides insulation from the cold floor)
Groundsheet
Water purification tablets
First Aid Kit
A small blowtorch or a reliable lighter
A warm jacket (puffer jackets are efficient and lightweight)
A broad brimmed hat
Sunscreen (please make sure it is eco-friendly and does not jeopardize the biota and environment)
Headlamp and spare batteries
Satellite phone (one for the group)
Slingsby map (the only trustworthy hiking maps in my opinion)
Camping stove with two full gas cannisters
Socks
Cup
Utensils
Snacks and food
Cable ties
Duct tape
Knife
Some items that you could do without, but will make your experience easier:
Trekking poles
Gaiters to keep the sand out
Crocs or lightweight shoes for camp and river crossings
Quick-dry towel
Little spade
Super glue
Insect repellent (please make sure this is eco-friendly and not harmful to the environment)
Here are two additional references for packing lists that have been compiled by other hikers and blogs:
FRC Packing List-No Speed Limit
FRC Packing list- Hikers Paradise
How to pack your backpack strategically:
A system when packing your backpack will help make carrying all your equipment easier and more efficient on long hiking trips and a packing system follows some basic strategies. It is essential to evenly distribute the weight you will be carrying for your hiking trip, so that you can hike for longer distances being pain-free. Balancing the load and organizing your equipment is not difficult but does take some practice and there are several basic rules you can follow to prevent your backpack being a literal pain in the neck.
Even with a lot of gear, strategic packing can make it feel like you are carrying less with a well packed bag.
Here are some tips to follow when packing your backpack:
Lay out all of your gear
This allows you to see everything that is going into your pack and lets you to make decisions on where to cut weight or where you are packing things unnecessarily. Organize everything into the following piles:
Shelter/Sleeping
Clothes
Food
Cooking gear
Small things you need easy access to during the day
Personal items
Organize your gear by accessibility:
A-Easy access (items you will use while hiking)
These items would go into outside pockets, straps and hip pockets on your pack. Organize these items as you would need them throughout the day without having to take your backpack off or unpack the inner cavities. Examples would be:
Water bottles
Sunglasses
Snacks
Phone
Trekking poles
Lip-balm
Insect repellent
Sunscreen
Maps
Compass
Guide book
B-Moderate access (items you use on breaks)
Items that you would need easy access to when taking short breaks on your trek. These would usually           go in the top lid, upper cavity or outside pockets of you backpack. Examples of these items are:
Rain jacket/poncho
Extra layers
Lunch food and snacks
Headlamp
Toilet paper
Personal items
C-Difficult access (items that you only need once you get to camp)
These items will require you to unpack your backpack to reach them. Items stored here will only be needed once you begin to set up camp and would not need them during the day. Items such as these would include:
Sleeping bag
Sleeping/comfy clothes
Camp shoes
Dinner foods and cooking gear
Sleeping pad
Shelter
Toiletries
Pack your bag in five parts:
Items you will not need until camp. Gear that is bulky and squishy (Sleeping bag, sleeping mat, loose clothing you wont need during the day to fill gaps, tent)
 Heavy items go in this part of your backpack. Carrying heavy items here will balance the weight on your back and will also create a more stable and evenly distributed organization of your items. Items and gear such as food, cooking gear, first aid kit and shelter accessories.
Items that you need access to during the day such as lunch food and snacks, binoculars, toilet paper, hand sanitizer, clean socks, sunscreen and other light gear.
Here you would store items that are light and small that you will need easy access to throughout your hike such as maps, sanitary products, small notes, bandannas or buffs, headlamp and medication.
Here you will use the space to store items that you need quick access to that are not bulky and that you would not need to unpack your backpack for such as rain-jacket, water bottles, sunglasses, snack bars, trekking poles, guide books, compass, rain cover (if it is not included with your backpack) and personal items.
TIP: Pack heavier items closer to your back and lighter items away from your back/on the front of your pack. 
Here are two YouTube videos for a visual explanation:
 Backpacking Basics: Packing your backpack
When I do want to buy gear that I know I am investing in and that will be used for years to come, I choose to buy quality and am still on the lookout for more local brands for specific items. Here are some of the current places I purchase gear from for long-lasting gear that will deliver on the technical details as advertised:
Other gear choices
Two of the most frequent asked questions about the Fish River Canyon regarding gear is:
Shoes or boots?
Tent or no tent?
Obviously, everyone has their own opinions on these topics, and again, it comes down to each hiker's preference. I have heard of veteran hikers who have trekked through the canyon 7 years in a row wearing only Crocs, and I have heard of hikers who swear by the most expensive, technical boots that would even make it up Mount Everest. To each his own. Here are some of my thoughts on the topics (these are merely my own opinions):
Shoes:
Shoes are lighter to walk in and are often not as pricey as boots. There are many types of shoes to choose from such as trail running shoes, tekkies, vellies, approach shoes and trail shoes. Make sure that you have walked far distances in your chosen shoe before a long multi-day hike to guarantee comfort and reliability. The walk in the canyon is almost exclusively walking on soft sand, gravelly paths and boulder hopping. Making sure your shoe provides enough support on the soles of your feet is important. Shoes also allow sand to get in easier, so often hikers will suggest gaiters as essential. Sand tends to collect in the shoe and sock and ends up grazing the skin as you walk, causing blisters. 
Boots:
Boots provide better ankle support and end up helping your ankles manage the weight of carrying a backpack on multi-day trails. Tired ankles also manoeuvre better in boots over boulders to prevent sprains and injuries. Boots also assist a little more with preventing sand getting in. However, boots are more expensive, and some designs can get very bulky and heavy, which could take a while to walk in. If hiking is not already a hobby, you might not already own boots which means you would have to buy. This can get quite expensive and hiking in boots is something to get used to. Although your feet get a lot hotter in boots, the support provided on the soles of your feet is treasured at the end of a long hiking day. Boots are also less likely to fall apart mid-hike, depending on the brand you have decided to go with. Personally, I will be hiking in boots.
Tent:
Some hikers prefer to take a small lightweight tent to keep out the bugs and scorpions (although they are less common than you think) and to protect themselves from the occasional wind or drizzle (depending on which month you plan on backpacking). It is, however, more weight to carry with you through the canyon and sleeping under the open sky in the canyon is considered part of the raw experience. A tent also gives you a little more privacy for changing and peace of mind when there is a slight drizzle or wind that carries sand, knowing you are protected. To accept that you will not be able to escape the sand whether you sleep in a tent or not will ease the resistance to this integral part of the entire adventure. If you do choose to take a tent, make sure it does not weigh any more than 1.5kg, otherwise you could buy a small kiddie's tent or halfmoon beach tent from Mr Price Sport that will not be too expensive and will provide enough shelter for a night's sleep. Some hikers also take their small tents and leave the flysheet behind to cut on weight, but still have that layer of protection from bugs and creepy crawlies. In my opinion, this weight could rather be utilised for some whiskey, OBS or Amarula to end off a day with your friends at camp.
No tent:
This option is not for everyone, but there can absolutely be a first time for everything! Sleeping under an open sky is an experience on its own and could very well change the way you feel about the outdoors. A simple groundsheet and a small lightweight mattress will provide enough comfort to rest your bones after a long day of walking. Just make sure that the mattress you choose is insulated because the sand can get very cold at night, otherwise place a classic blue foam pad with an insulated lining under your mattress. This is bulkier to carry along with your mattress, but not much weight. I will be choosing no tent, to fully immerse myself in nature, as our ancestors did.
Food
Whatever goes into everyone's bag to nourish and sustain themselves for a long hike is very personal and depends on dietary restrictions and preferences. There are some amazing suggestions on the internet on what you could pack and how to assemble meals that are lightweight and nourishing.
Here are some tips I follow when planning meals for a backpacking trip:
A game changer! I prefer to use assorted spices to change up the flavours of my meals to keep myself from eating the same bland foods over the entire trip. Adding different spices can change the whole dynamic of a meal and are also easy to pack if you have prepared properly.
Use Ziplock bags or foil to reduce on bulky and unnecessary packaging. Sort your food into meals and days to be better prepared for your trip. Remember that once you have consumed your food, you must carry the packaging out of the canyon with you, so avoid canned food and boxes. Keep trash minimal.
This is essential to my planned meals because I love wholesome meals at the end of the day. I prefer to support local companies like Forever Fresh Foods that offer freeze-dried ingredients that I can add to my own meals such as pastas, curries, one-pot meals and breakfast oats to fuel me for my entire trip. 2-minute noodles for 5-6 days can become more of a burden than a salvation after long days, and why not add delicious ingredients to your meal plans if they weigh next to nothing?
I love a hot drink before a hike, whether it be coffee, hot chocolate or soothing teas. I always take instant hot drinks in sachets or tea bags when I am hiking. A hot drink in the morning or evening often feels like medicine after a long day of walking. A great initiative for those who prefer filter coffee without wanting to carry along a plunger, Moses Motswako makes these nifty little pouches of coffee that are lightweight and high in quality for any avid coffee drinker.
There are many different staples to choose from, but I always make sure I have pre-cooked dehydrated staples in my food supply. As the base of most of my meals that provide enough fuel for replenishing my body after a long days walk, I usually include noodles, couscous, rice, beans, dehydrated potatoes and quinoa.
BUILD YOUR MEAL IN 4 STEPS:
1. Choose staples
2. Include proteins 
3. Add vegetables 
4. Spice/stock/flavour 
Suggestions for meals:
Breakfast:
Instant oats + freeze dried raspberries/apples/pears/bananas + cinnamon + chia seeds
Freeze dried egg + dehydrated/freeze dried mushrooms/zucchini/onion for morning scrambles or omelettes
Snack bars + nuts/trail mix + dried fruit
Rice cakes + peanut butter/ almond butter + honey (sachets)
Fruit puree (usually sold for infants, but has minimal ingredients and perfect portions)
Lunch:
Biltong + cheese wedges + crackers + olives
Wraps + dehydrated hummus + seeds + sundried tomatoes
Crackers + tuna/salmon + hummus
Snack bars + dehydrated fruit rolls
Dinner:
My favourite Forever Fresh meals are:
Please do not leave any litter or any remnants of the contents of your pack behind in the canyon. It is a fragile ecosystem and as hikers it is our responsibility to cause as little disturbance as possible. Keep all your litter on you and carry it out of the canyon when you leave. Do not bury your toilet paper in the canyon, rather burn it, or make sure that the toilet paper you use is completely biodegradable and eco-friendly. Be mindful of the space you are in and move through the canyon with humility and respect for the ancient environment.
Some helpful sources:
This is a great source to read about advice for shoes, gear and where to hike to prepare. You can use the "search" tab to direct you to information you need, like specific hikes; best hiking boots; what to pack for an overnight hike etc.
AllTrails App: I have been using this app to find hikes near me to explore and the filters are super simple to use.
TrailForks App or website: https://www.trailforks.com/
A great database of maps and trails including contour lines and information from hikers who have completed certain trails globally.
My favourite place to search for mountain ranges and peaks and explore trails digitally before embarking on real journeys by foot.
My favourite place to compare gear and read about reviews on certain items I am looking to buy.
If you are in the Western Cape, this is an amazing place to rent quality hiking, camping and outdoor gear if you want to test something out before you buy it, or if you only need it once.
Essential documents that you need to remember:
Valid Passports
Medical Clearance Form from your GP (Must be no older than 40 days prior to the day of Descent)
Depending on COVID-19 regulations at the time, we will probably need negative PCR test certificates to enter Namibia at the border, and coming back into SA, you can do a rapid result test at the labs as you enter SA. Will confirm closer to the time depending on the situation.
If you are travelling with your own car, remember Vehicle Certificate of Registration
Final thoughts
Everybody's reason for hiking or trekking any trail is different. Every person also approaches such a journey in their own unique way, deciding which phases of the preparation is most important to them and how they prefer to pursue this exploratory journey of both themselves as well as the environment they will immerse themselves in. It is helpful to remind yourself of this often to be aware of group dynamics and to be compassionate with how others decide to follow through with this journey. It is inevitable that committing and bathing your body in such a journey will change you in some way or another and will contribute to your growth even in the smallest ways. Allowing space for change in thought patterns and compassionate interactions with the people you are walking with, the fauna and flora you stumble upon and the environment you meet, is a way of showing respect and a subtle way to give thanks for being granted such an opportunity.
As humans, to walk is a fundamental movement pattern and is also something that is inherently linked to our mental and physical health.  There is a sort of metaphysical space that is created in our inner worlds which allows our thoughts to begin to flow freely and not get backlogged by our traumas or anxieties. This may not be immediately noticeable for everyone who walks far distances, but I have experienced breakthrough moments which have helped with my anxiety and depression stemming from trauma. Walking is pivotal to my existence, hence my passionate and enthusiastic approach to speaking and writing about it.
Lastly, enjoy every moment being baptized by this pristine and hauntingly beautiful canyon, where you can truly take a break from bustling society and allow the walk, however many days you choose, to turn into an active meditation.
Photo by Ralph Pina (www.raplhpina.co.za)
Leave a comment below! :)