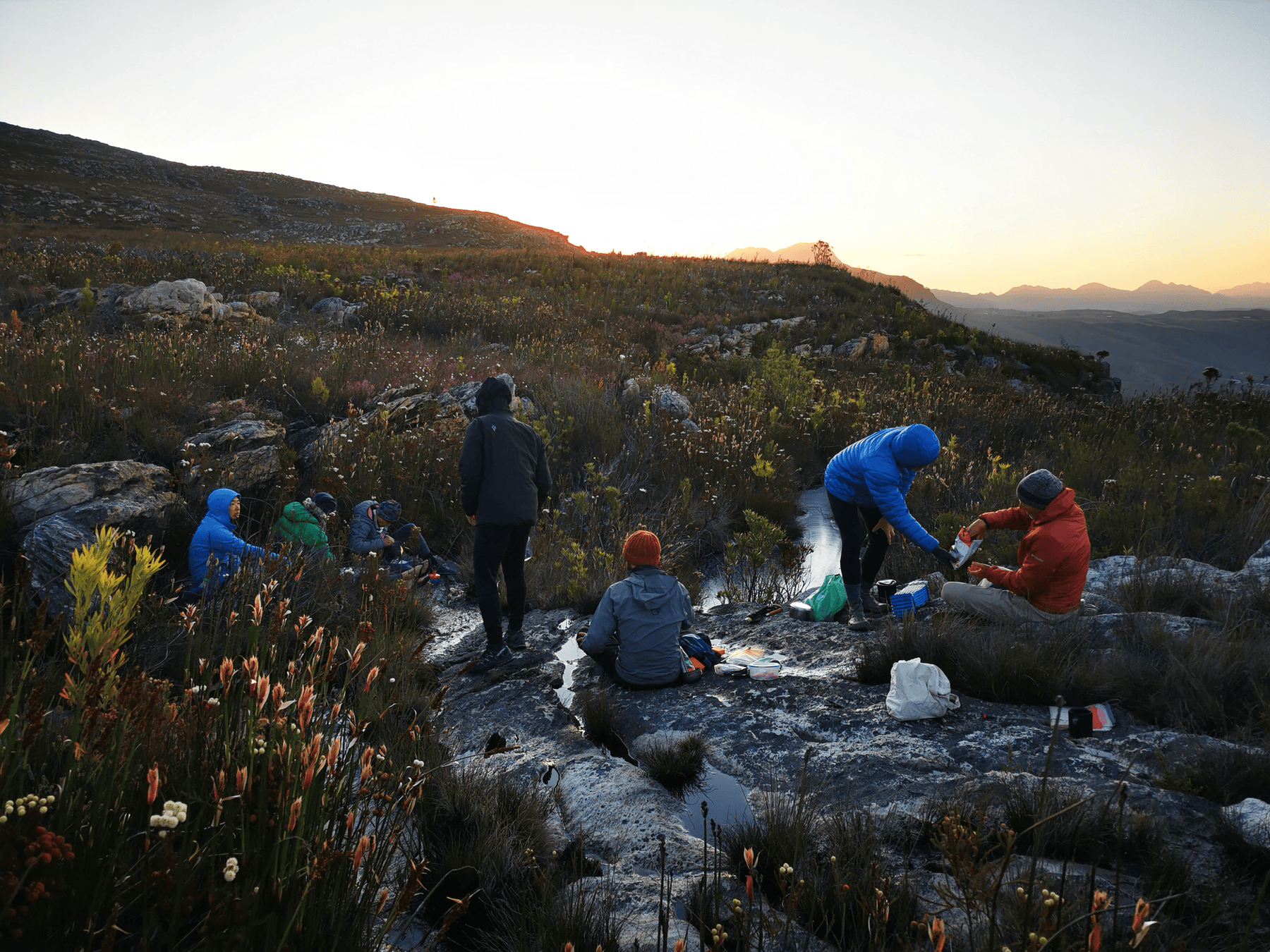 A Guiding Light
By Grant Christie
During tax season we email our accountant. In the face of a lawsuit we call our attorney. If we're ill we consult our doctor. When we travel internationally we contact a travel agent. But when we holiday at home we go it alone.
Why?
Because we're South African!
We know that the lion is king and that our national flower is the King Protea.
We know how to fix a Landy and that Klippies is the best brandy.
And we know how to find our own way.
We certainly don't need some oke giving us a rehearsed spiel about the swallows flying north for the winter or that Jan Van Riebeeck landed in the Cape in 1652. We don't need to be told to keep our arms in the vehicle or to cover up for mozzies or not to flash our cash at the roadside curios stalls. We know these things; they are in our blood.
We prefer enjoying the peaceful, secluded forest with just our loved ones; watching the sun paint bright streaks as it pours in through the foliage. Ah, Golden Hour: the perfect time for that Insta snap. Wait, it's almost sunset! How did we get here? This unmarked fork in the trail, did we come left or right? I didn't pack the torch! Who do we call if we get lost? There's no signal! Are there leopards here? I'm also hungry, here eat these berries. Can we drink from this stream? What was that sound? My tummy hurts!
Honey, I told you we should have taken a guide!
It's no secret that Covid has had a devastating impact on several industries, with tourism being one of the hardest hit. But no, this is not a pity-party-piece or a shameless self-promotion. This is an objective look at the South African guiding industry (with some not-so-objective stereotypes thrown in just for fun); a guide to guides if you will.
So what is a guide?
To be a legal guide in South Africa one must be registered with the National Department of Tourism. This registration is facilitated by the relevant provincial tourism department and in order to do so a candidate must have gained a CATHSSETA (Culture, Art, Tourism, Hospitality, and Sport Sector Education and Training Authority) certificate by completing a SAQA (South African Qualifications Authority) accredited training course and assessment through an accredited training provider. The candidate is also required to hold a valid first aid certificate gained from a Department of Labour (not Health?) accredited training provider in line with the Occupational Health and Safety Act.
 Yes, it's complex. And an admin nightmare. But there's more…
There are three types of guides in South Africa: Nature, Culture and Adventure.
A Nature Guide (aka Field Guide) – often erroneously referred to as a game ranger – is trained and qualified to guide nature excursions in a certain area or biome. They usually wear khaki short-shorts and vellies and drive an open safari vehicle (aka game viewer).
A Culture Guide is qualified to offer cultural and historical tours, also within a specific region or province. They usually wear their guide badge proudly on a crisp white shirt and drive an H1 tour bus.
An Adventure Guide is qualified to lead specific adventure activities and can do so nationwide as long as the activity falls within their scope. They usually wear a holey wife-beater and boardies and drive an old, beat-up, barely roadworthy Isuzu double cab that their uncle gave them in exchange for a case of beer and a free rafting trip down the Orange River.
Nature and Culture Guides generally have a scope limited by location. An Adventure Guide's scope is limited by activity.
So legally, a Culture Guide cannot take you hiking up Table Mountain. A Nature Guide cannot take you to Robben Island Museum. An Adventure Guide cannot take you on a game drive. A KwaZulu-Natal battlefield Culture Guide cannot give you a tour of the Union Buildings. A Savanna biome Nature Guide cannot take you for a walk in the Fynbos. A Western Cape Rock Climbing Guide cannot take you sea-kayaking at Camps Bay but he can take you climbing at Waterval Boven.
Why should I use a guide?
Sure you could do a self-drive in Kruger National Park, but you wouldn't know that a wild dog pack has recently had a litter of puppies and that they're denning in the culvert 3.7km along the S1 from Phabeni Gate and usually return from their hunt half-an-hour before sunset.
You could read the Wikipedia write ups about the Battle of Blood River, but you wouldn't feel the chill in your bones as a skilled orator emotively describes the feeling of peering out of an ox wagon and seeing an approaching horde of spear-wielding warriors surrounding you.
You could use your snazzy GPS app to navigate your Cederberg hike, but you wouldn't know that behind that koppie is a hidden cave with ancient bushman paintings on the walls and a stately cedar tree at the entrance that frames the setting sun perfectly at this time of year.
A guide is a wealth of local knowledge: routes, fauna, flora, history, geology...
A guide relieves the pressure of organising an itinerary, accommodation, transport and other admin so that you can relax and enjoy your trip.
A guide brings experience and can teach you tips and tricks and hacks.
A guide manages risks, can swiftly initiate rescue procedures, and provides peace of mind.
But…
Guides are not Google: they won't have an answer for everything, but what they don't know they will research for you.
Guides are not porters although they could arrange some for you.
Guides are not life coaches, although – like a good barman - they can listen and offer their perspectives.
Guides are not infallible, they get tired and hungry and grumpy sometimes too – you might just not notice it.
How do I know if a guide is legit?
Simple: A legal guide will have a Tourist Guide Badge with their name and guide number (that cool one with the SA Flag colours on it); as well as a valid Tourist Guide Card issued by the relevant provincial tourism department (I say valid because they need to be renewed every three years along with the first aid certificate). This guide card will indicate the scope that the guide is qualified to operate within. For example: "Mountain Walking Guide – National" or "Nature Guide – Kruger National Park and surrounding reserves" or "Culture Guide – Western Cape".
There are so many illegal operators out there. These fly-by-nights increase risk to the client, there is no accountability should an incident occur, there is no recourse for negligence, it leads to unethical practices, shortcuts and inappropriate pricing. They give the industry a bad name.
So, make sure your guide is appropriately registered for the activity they are offering.
Yes, I am a guide.
So of course I would say these things. Of course I would want you to use a guide.
But before I was a guide I was also that guy who got lost in the dark in the Drakensberg because he thought he could ignore the map and go exploring off-trail.  I also can't stand pre-prepared monologues of marginally relevant information. I am also irritated by the solicitation of tips. And don't get me started on those busloads of tourists queueing to have their picture snapped at Cape Point.
But perhaps that's why I became a guide; partly to escape the requirement of needing a guide to go certain places and partly to be a guide who allows guests to forget that they're being guided.
Because a good guide is not just a guide…
A good guide is an administrator, a planner, a coordinator, a marketing specialist, a financial advisor, an auditor, a risk manager, a safety officer, a medical response team, a pack-horse, a pioneer, a photographer, a cinematographer, an encyclopaedia, a comedian, a motivational speaker, a comforter, a dreamer, a way-finder, a friend and a guiding light.
Share your best guiding experience in the comments below!